By Emma Harper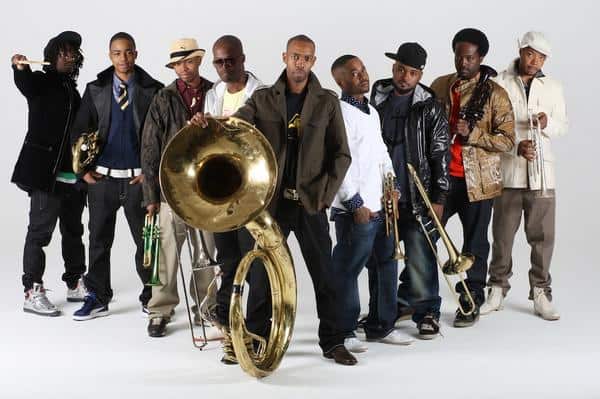 Saturday night belonged to the Hypnotic Brass Ensemble. The thought of a brass ensemble generally conjures up, at least for me, an image of stuffy older men ensconced in the venerable world of classical music. Yet within the first few minutes of their performance, Hypnotic Brass Ensemble stomped this stereotype to pieces and left it broken on the stage, beyond any hope of repair.
Initially lured to the concert by the promise of Mos Def and MF Doom taking the stage, I gave little thought to their background music. In fact, if Hypnotic Brass Ensemble hadn't been so stellar, I would have considered the evening a wash.
Mos Def, who now goes by the name Yasiin Bey, has an amazing repertoire and even samples one of my favorite Turkish singers, Seda Bağcan, in his song "Supermagic". Likewise, MF Doom is an inventive lyricist who makes clever songs that are sprinkled with his own brand of dark humor. For any fans of Adult Swim on Cartoon Network, his album with Danger Mouse entitled The Mouse and the Mask will be sure to tickle your fancy.
Yet both of their performances were lacking. MF Doom came on stage for one song, while Mos Def, despite being on stage for much longer, seemed to consider his presence to be enough to satiate his fans. It seemed as if their names were used as bait to get people in the door, when in fact they very much played a supporting role.
Was this disappointing? Actually, no, not at all. The energy and passion displayed by the Hypnotic Brass Ensemble had turned the large, impersonal Lütfi Kırdar auditorium into a giant party. After finishing the first song, the band pleaded with the audience to come dance in the large open section right in front of the stage. Most of the people present gladly took them up on this offer, to the chagrin and bewilderment of the theater's ushers.
With the formality stripped away, Hypnotic Brass Ensemble just let it all out. With shirts off, dancing and sweating, their performance felt intimate and their sound, immense. There seemed to be a feedback loop wherein the audience and the band energized each other to the point where it was hard to tell who was more into it.
The familiarity and fluidity of their performance is explained, in part, by the fact that Hypnotic Brass Ensemble is a group made up of eight brothers from the south side of Chicago. They grew up playing together and, at one point, made a living busking on the streets of Chicago. Influenced by their father, Philip Cohran, a musical activist and educator, and their love of rap and hip-hop, they began to compose music of their own. What resulted is their unique sound, which is embodied in their popular single "War" – by far the best song they played all night.
I have been to a number of excellent shows put on as a part of this year's Akbank Jazz Festival, but Hypnotic Brass Ensemble has been, hands down, the best to date. Although the festival is winding down, there are still a few more shows this week – İlhan Erşahin's İstanbul Sessions is going to be taking place at Babylon on Wednesday, 9 October and Rova Saxophone Quartet will be playing an evening of jazz dedicated to Butch Morris, also at Babylon, on Thursday, 10 October.
While you won't find anything quite like Hypnotic Brass Ensemble's sound at either of these shows, you will most likely discover another unique group playing excellent music. And that is the beauty of festivals like the Akbank Jazz Festival – they bring outstanding artists from all different backgrounds to this fair city. All we have to do is listen.