As a queer person, I can attest to how easy it is to feel isolated in a foreign country. This past year, we saw our pride march officially cancelled and the resulting police scenes. Our movement has raised consciousness and made significant progress toward equality around the world, including in Turkey, so we have much to be proud of and look forward to. Still, many queer people continue to struggle with depression and ostracism. The various attacks and bombings this year have shocked and frightened all of us, but when you come from a community who is already oppressed, it can be that much easier to feel vulnerable. It is crucial that we connect in solidarity in these chaotic times. Gay, lesbian, bisexual, and transgender people need spaces where we can be ourselves and form friendships (and, of course, intimate relationships) with each other and heterosexual allies who sympathize with our struggle. Finding opportunities for this is not always easy, but they do exist in Istanbul.
The following is a list of various events, communities, and venues around the city where queer people can be ourselves. We can participate in a variety of activities safely and meet other LGBT people and non-LGBT allies who accept us for who we are. I have included various bars, clubs, weekly events, cafes, and groups to honor the vibrant diversity of our community. Contrary to stereotypes, not all of us live for the club scene. You probably already know about the clubs Super Fabric and Tekyon, but many of us complain that clubs are too loud to have a conversation in. We also have different passions and interests, so I have included a variety of happenings in an attempt to accommodate these different passions and interests. All are good places to make new friends. All are explicitly either for LGBT people or accepting of LGBT people, so you can come and enjoy yourself while still being yourself. As Tennessee Williams said, "If you cannot be yourself, what is the point of being anything at all?"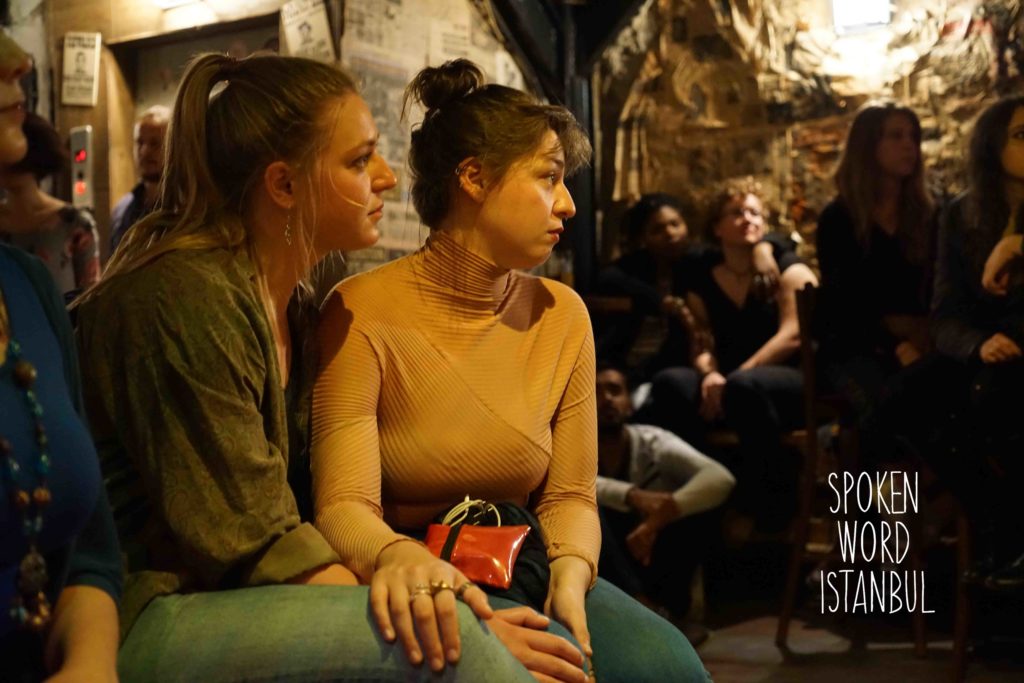 1. Spoken Word Istanbul
Spoken Word Istanbul gives everyone a platform to read poems or stories, play music, dance, perform stand-up comedy, or any other type of performance in any language, although the Tuesday event is predominately English, while the Wednesday event is predominately Turkish. If you want to perform, sign up with the convivial host, Merve. Spoken Word attracts many talented writers and performers, as well as many queer people and allies. It has a firm policy against homophobic (as well as racist and sexist) commentary on stage.
Spoken Word English meets every Tuesday night at 8:30 at Arsen Lüpen Bar at İstiklal Cd, Mis Sokak, No. 15, Fourth Floor. Spoken Word Türkçe meets every 3 weeks on Wednesday nights at 1971 Akademi Kitabevi & Café at Sakız Sokak, No 12, Kadıköy just off of Moda Cd near Şifa Kadıköy Hastanesi.
2. Mor Kedi
Mor Kedi is half gay bar, half gay café. While they serve alcohol at reasonable prices, they also serve coffee, tea, and have a limited food menu. The owners, Atilla and Galip, play the music from their laptop, which is left open so any customer can play a song on YouTube. Most of the frequent patrons are Turks who speak limited English, so a little Turkish will come in handy. During the day, it's a nice spot to have a çay, beer, or Turkish coffee. At night, the customers turn on the club music and start dancing. It's a good place for people who like to expect the unexpected. However, the music rarely gets so loud that you can't hold a conversation.
Mor Kedi is located at İstiklal Cd., İmam Adnan Sk. No:7, Fourth Floor. The place is not easy to find. Go to Istiklal and walk until you reach M&N Café and Brasserie and then turn right. Look for a small rainbow sign on your left that says Mor Kedi and walk up the stairs.
3. Pinokyo
Pinokyo is a cute gay bar that will not suit everyone's tastes, but can be fun for a night out, especially if you can hold a conversation in Turkish. It is loud sometimes, like many clubs, but also unique. It features male belly dancers who can be very entertaining and the staff is friendly and welcoming. Sometimes, the music quietens, and people are likely to approach you for a friendly chat.
Pinokyo is located at İstiklal Cd. Büyükparmakkapı Sk. No : 26 Kat:2. Look for the red vertical sign.
4. Lambda Weekly LGBTI Tea and Talk Hour
Lambda Istanbul is the first gay rights organization in Istanbul that tragically no longer has its own space. The group holds most of its activities in Turkish, but it also holds an English tea and talk every Wednesday night at 7:30, alternating between the Asian and European sides. They meet in various cafes, bars, and restaurants to provide a forum for the queer community. Many artists, students, teachers, and activists come to meet new friends and reconnect with old ones. Both Turks and foreigners are frequent participants. While the times do not change, the locations do, so like their Facebook page, "Lambda Weekly LGBTI Tea and Talk Hour" to stay updated.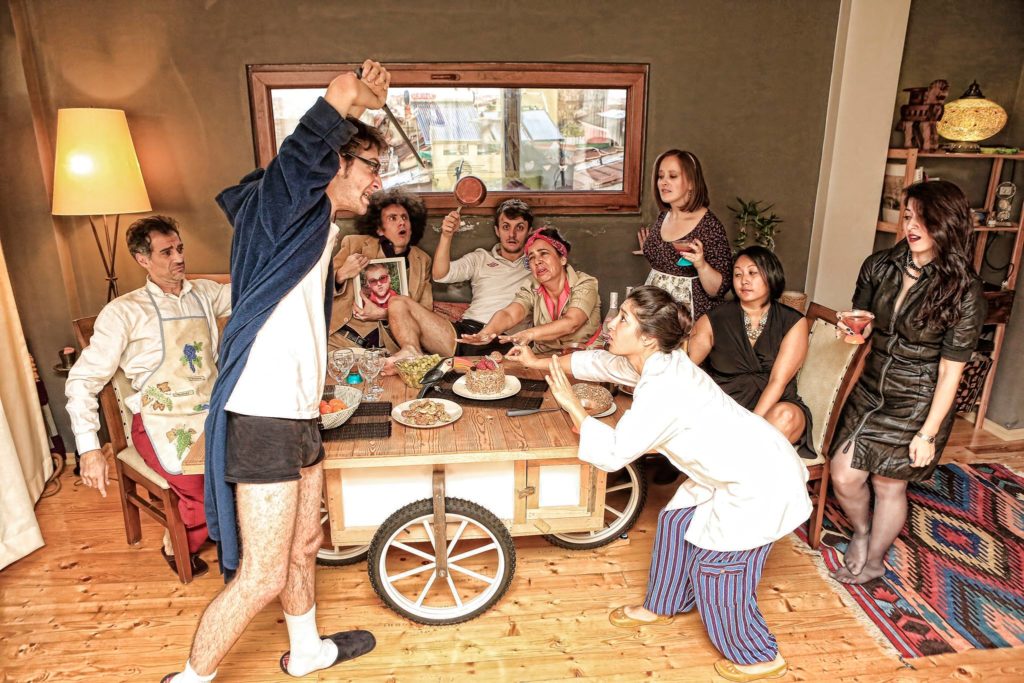 5. English Improv in Istanbul (a.k.a The Clap)
It's no secret that queer people have always been drawn to the theater scene, and this group of theater improv performers comprises entirely of queer and queer-friendly people. The official members, known as The Clap, perform improv in the Taksim area. Their performances are explosively and unpredictably hilarious. Some of their performances (known colloquially as "jams") allow audience members to come on stage and act with them and even give you a discount for it. Their weekly rehearsals on Monday nights at 8:00 at YOTA Theater are open to anyone who wants to learn the art of improv and are often followed by drinks at a nearby bar. You might also see them at Spoken Word.
English Improv in Istanbul meets for Monday open rehearsals at 8:00pm at YOTA Theater on İstiklal Cd., Atıf Yılmaz Cd. No:2, Third Floor. Shows are every first and third Friday at 8:30 at YOTA for 20 lira. Shows and jams are held on Thursdays at Arsen Lüpen Bar at İstiklal Cd, Mis Sokak, No. 15, Fourth Floor. For more information, like their Facebook page, English Improv in Istanbul.
6. Melekler Kahvesi
Melekler Kahvesi is a quaint café that offers a full food, tea, and coffee menu as well as fal, the Turkish tradition of reading coffee grounds for divination. The oracles here also rely on Tarot cards to assist them, and their divinings are sometimes shockingly accurate. The place is frequented by gay and transgender customes. It's a good place to seek spiritual advice and clarification, and readings are only 20 lira. It's also easy to find. Look for the angel poster.
Melekler Kahvesi is located at İstiklal Cd., Ayhan Işık Sokak No. 32.
7. Joker No. 19
Joker No. 19 is a trendy bar in Beşiktaş that features good deals on international beers if you need a break from Bomonti and Efes. It is also the only bar I know here that makes a decent dirty martini. While it is not an officially gay establishment, many of patrons are gay and most speak English. It is also frequented by local artists and students. The food and mix drinks are delicious and the courtyard area is pleasant for lunch, while the bar area is lively for drinks and small talk. The DJs somehow manage to play great trance music at a volume that still allows for friendly dialogue. Fascinating.
Joker No. 19 is located near the coast in Beşiktaş at Beşiktaş Caddesi No:19.
8. Kadıköy English Game Fridays
This group meets every Friday night to play games in English (and only English) such as Taboo, Who Am I?, and Charades. While you will be encouraged to buy drinks, the event itself is free. It is quite popular among Turks who want to enhance their English, but foreigners also come and it can be a great place to make new friends, especially if you enjoy word games. The event is not exactly a gay hot spot, but its organizer, Azer, is very supportive of gay rights and makes every effort to make gay people feel accepted and welcome. It's best to sign up on Meetup.com in advance by searching for English Conversation Club before going, as the event can only accommodate 24 people. If the event is full, you can sign up on the waitlist.
Kadıköy English Game Fridays meets every Friday at 8:00pm and the games usually start around 9:00pm. It meets at E5 Pub near the ferries and meydan at Güneşli Bahçe Sokak, No 58.
9. Leyla Teras and Alt Bar
These two bars in the same building and run by the same people proudly display rainbow flags and attract many gay patrons. Both have also a nice mix of foreigners and Turks, and many people speak English. Leyla Teras sometimes features live music. Like their Facebook page to stay updated.
Leyla Teras and Alt Bar are located at İstiklal Caddesi Mis Sokak, No:6 on the 6th and 7th floors. Look for Boş Zamanlar Bar and walk upstairs.
10. Babel Café and Restaurant
This delicious and reasonably priced Turkish restaurant in Cihangir has some of the best mezzes in the city. They also serve alcohol and have a lovely lounge area. Many gay couples hang out there and they proudly display a rainbow flag. The restaurant is also ideal for vegetarians and serves vegetarian mantı, gül boreği, and other options. On Fridays at 8:00pm, they have live music.
Babel Café and Restaurant is located at İstiklal Caddesi, Turnacibasi Cd. 56.
11. Bigudi
Bigudi is the first lesbian bar in Istanbul, but is also frequented by gay men. Events include girl parties, quiz nights, pride events, and live music nights. It's also a nice mix of Turks and expats, so English speakers will be easy to find.
Bigudi is located at İstiklal Caddesi, Mis Sokak No: 5 Fifth Floor.
12. Gizli Bahçe
This club is a popular hangout spot for the gay community. The DJs usually play ambient trance music which is fun to dance to. They also have lounges and a large terrace area where patrons can chat with one another. The bartenders are friendly and welcoming.
Gizli Bahçe is located at Nevizade Sokak No. 27 near Taksim.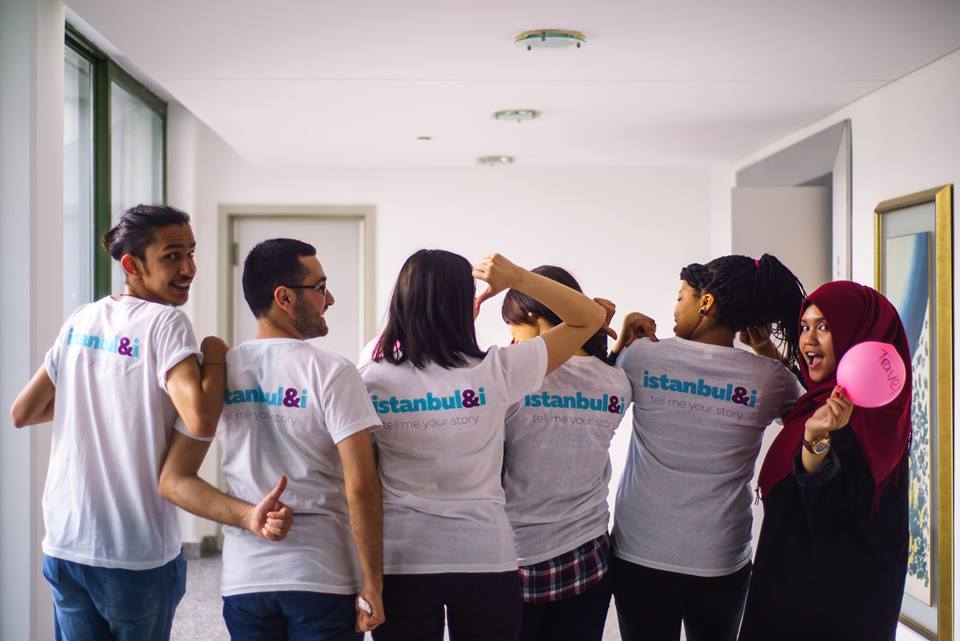 13. Istanbul&I
Istanbul&I is the first youth social impact group in Istanbul and is the ideal group to connect with if you have a passion for volunteer work. Its activities include making art projects out of recyclables with refugee children, facilitating storytelling events, feeding low income children during Ramadan, and organizing photography projects for youth. Their non-discrimination policy includes sexual orientation and gender. They even have plans to work with Syrian LGBT organizations. Their activities are all over the city and at various times to accommodate anyone's busy schedule. The group's founder, Teymour, is quite approachable and helpful. They are an extremely diverse and intimate community with representatives from over 40 countries. In addition to volunteer work, the group also holds fun parties and ethnic cuisine nights to cultivate solidarity. The best way to get involved is to like their Facebook page and attend their various events around the city.
14. Piramid Sanat Art Gallery
This charming gallery in Tarlabaşı attracts many gay visitors and exhibits work by many gay artists, even some homoerotic artists. It holds some of the most momentous and festive gallery openings in the city, replete with wine and cheese and also has a café downstairs for socializing. Most of the staff and visitors will speak English. The best way to stay updated is through their website https://www.piramidsanat.com/, available in Turkish and English.
Piramid Sanat is located outside Taksim at Feridiye Cad. No:25.
15. Istanbul Lotus River Sangha
This new English Zen meditation group meets on Sundays at 6:00pm, and alternates between the European and Asian sides. Their meetings include guided seated and walking meditation, as well as a confidential discussion portion. Their policy welcomes anyone of any gender, race, religion, or sexual orientation. It is also supportive and open to beginners and does not require any previous meditation experience. To get involved, like their Facebook page, Istanbul Lotus River Sangha, as the location is subject to change.
Did we miss any locations you'd like to share with us? Let us know in the comments!