Long ago, great explorers traversed huge bodies of water with little more than the stars to guide them. And now? Well, you just need a well-charged smart phone and a touch of technological intuition. In some ways it's all a bit depressing—that loss of adventure—but then you realize the adventure is not lost in the slightest. There are apps that, like the stars, lead you exactly where you need to go (in some cases, quite literally).
Getting around Istanbul can be a trying process, but, as they say, "There's an app for that." Or, in this case, "There are ten apps for that." There aren't apps that will help you combat all the challenges you my face, but they can certainly help. Knowing the right apps can have a distinctly positive effect on your life here, so, without further ado, here are ten apps for your smartphone (or iPad etc.) that can help you take on the mean streets. It doesn't hurt that they're all free.
Yemeksepeti (iOS/Android)
This is the bread and butter of Istanbul apps—no pun intended. Yemeksepeti allows you to fulfill all your wildest food ordering dreams.  You input your address, and the app gives you a large list of restaurants that will deliver to your home. The options are endless. You can opt for delicious Turkish food, or order McDonald's to indulge the North American fast-food glutton within. You can even order dessert – only dessert. It's user-friendly, efficient, and reliable. It's a must have.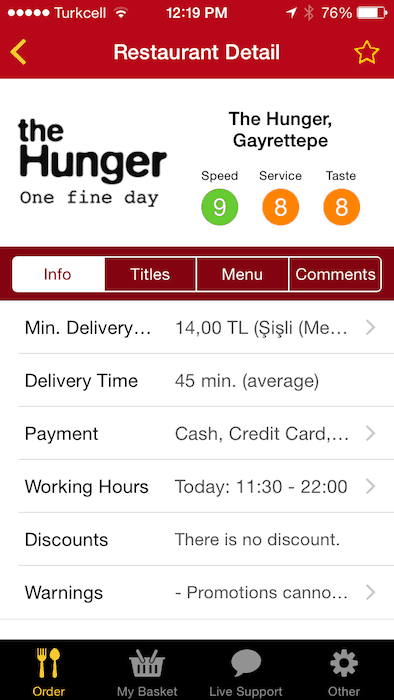 Sesli Sözlük (iOS/Android)
Shockingly,  you may need to know a little Turkish in Turkey. Sesli Sözlük has you covered. It's one of the most reliable and user-friendly English-to-Turkish dictionaries available. Download it. Sooner or later you'll need it.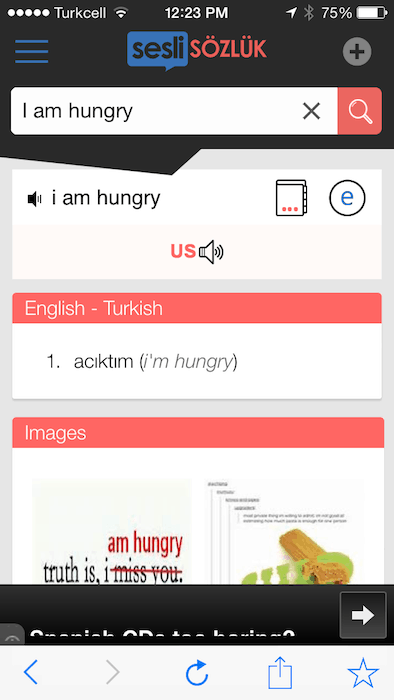 BiTaksi (iOS/Android)
In the world of Istanbul taxies, accountability and reliability are key. While these qualities can be difficult to find, BiTaksi makes things a whole lot better. You just pin your location and just like that, a cab comes to you within minutes. You'll have the cab's information, as well as the driver's name and phone number, so you'll know who to contact, if need be. After the ride, you'll rate your ride from one to five stars. This serves as an incentive for drivers to be dependable. Lastly, you'll be able to use the fare calculator to check whether or not the cost of the ride is accurate.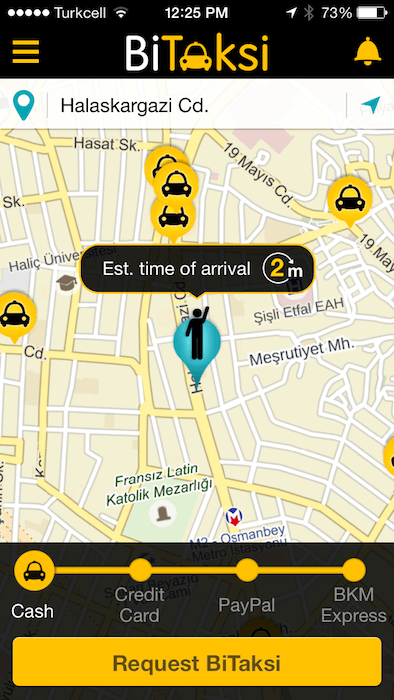 En Yakin ATM (iOS/Android)
When you search your pocket and find it empty, it's time for En Yakin ATM ("The Nearest ATM"). The app finds your location automatically and then provides you with a user-friendly map of all the ATM machines in your vicinity. It has all the city's major banks on its radar, so you'll be covered.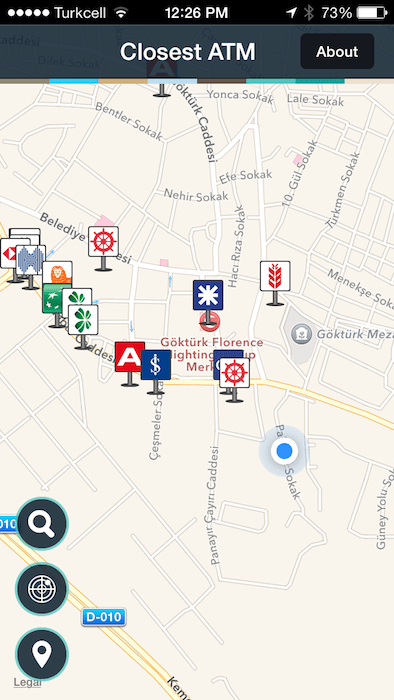 Trafi (iOS/Android)
In Istanbul, a journey that should take 20 minutes can end up taking a whole lot more. It's important to know, in real time, exactly how long it will actually take you to get somewhere. With Trafi, you can plan your route from your current location, and it provides you with step-by-step instructions on how to get there. Even better, the app monitors traffic along the way. Think of your friend who has a sincere knack for navigation and a surprising understanding of traffic patterns— that's this app, only better. Not to mention, you'll have access to schedules for all major public transit in Istanbul, including ferries. It's a map. It's a transit guru. It's your new best friend.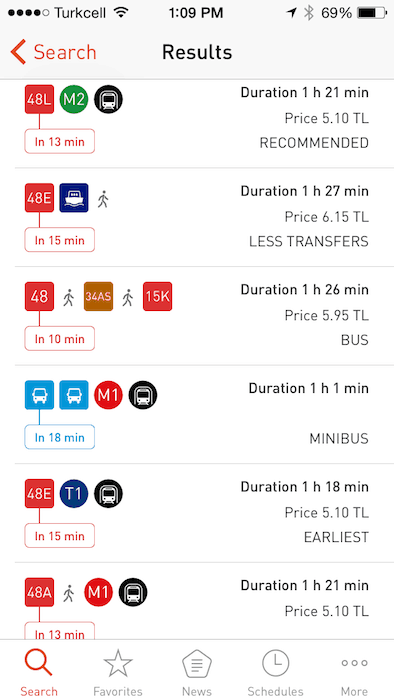 XE Currency (iOS/Android)
While XE Currency isn't an app that's specific to Istanbul, it's important for your time here. Add the Turkish lira to your personalized currency list to easily compare it with major global currencies. Need help deciding when's the best time to send money home? Just refresh to see live updates. The rate advisor and currency profile section illustrates the lira's performance against other currencies through a detailed graph over a short (as little as 1 day) or a long (up to 10 years) period of time.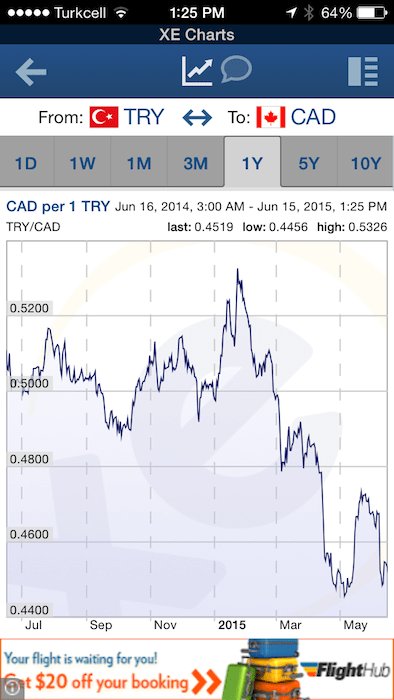 Streetdust (iOS)
Streetdust allows you to explore stories you may otherwise have never come across. Curated tours guide you through particular themes of the city such as "Abandoned Places", "Palaces of Beyoğlu" or simply the "Funky Tour." Each tour has an approximate distance, estimated length of time as well as information about each spot on the trip. If tours aren't your thing, you can also just use the app to explore and get a little information along the way. So far, the tours focus on Beyoğlu, but as the app grows the potential is really limitless. Download it, and see if you can add your own tour to the mix in due time.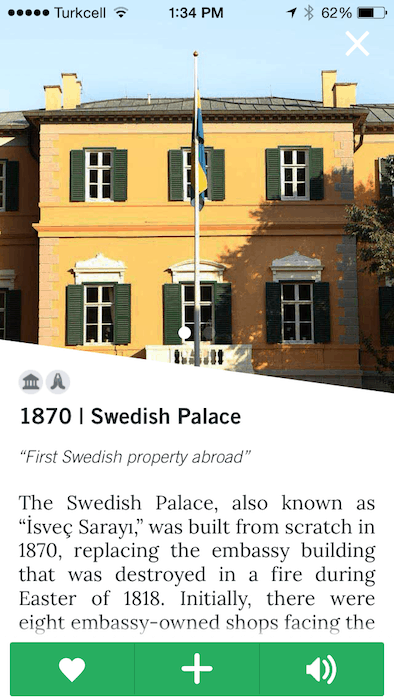 Yandex Maps (iOS/Android)
Google Maps may work very well elsewhere, but if you ask me, it has yet to find its groove in Istanbul. Luckily, Yandex Maps is a comparable alternative; it's fast, reactive, and reliable. Although it isn't perfect, it's likely the most comprehensive map out there.
StreetArt Istanbul (iOS)
Guess what this one's about! StreetArt Istanbul provides information on and the whereabouts of over sixty different pieces of coveted Istanbul street art. You can use the app to read about street art and chase pieces down one by one, or you can simply click on the app when you stumble upon a particular wall that catches your eye. While the English on this app isn't perfect, it certainly doesn't detract from the experience. Nothing but good can come from downloading this one.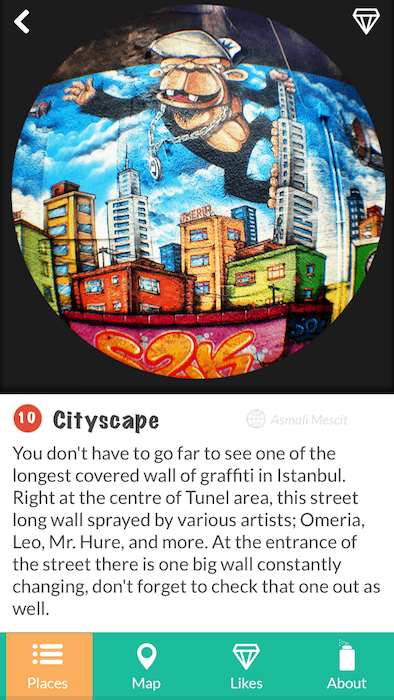 Grand Bazaar (iOS/Android)
The Grand Bazaar is one of the largest and busiest marketplaces on the planet, so it's helpful to have an app to guide you. With Grand Bazaar App You can search for particular shops within the bazaar as well as specific items and restaurants. You can use the app to locate facilities you may need to access while inside, such as ATMs, bathrooms, an information point, or (just in case) the police. This app is fairly new to the game, so they're still ironing out some kinks. Nevertheless, it's worth including.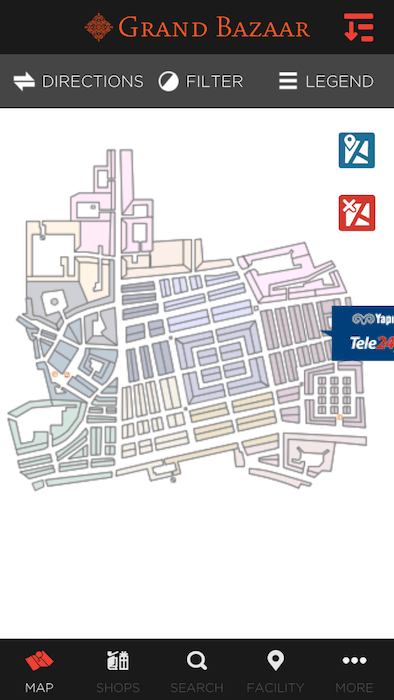 Christopher Mitchell is a contributor for Yabangee. Check out his travel blog Heart & Seoul.