There's nothing like a great concert, especially when life is stressful. The catharsis of listening to a live band and perhaps even dancing has been one of the most liberating aspects of my time in Istanbul. I have found the live music scene here is severely underrated, both by foreigners and locals. While I don't particularly blame anyone for not enjoying mainstream Turkish pop (or mainstream American pop for that matter), the good news is there's more to the music scene here than that. There's a vibrant underground music scene with bands, local and international, to suit every taste here. Coming from New York, I grew up listening to hip-hop MCs like 2pac, Nas, Meshell Ndegeocello, and Mary J Blige, and must say some Turkish MCs like Ceza and Da Poet are equally off the hook. Rock, jazz, punk, classical, techno, and folk listeners will find venues for their live music fix as well. Just look around happening areas like Taksim, Kadıköy, Cihangir, or Beşiktaş in the evening and late night and you'll see an abundance of bars and restaurants displaying signs that read canlı müzik (live music). This will likely be a guy with a guitar or Turkish traditional music on the saz, but you never know. One style of music I have come to appreciate since coming here is indie electronica, which combines music composed on computer programs with traditional instruments, such as drums and guitar. This is frequently accompanied by graphics projected onto a screen or light shows. This aesthetic quality accentuates the effect of the music, as these virtuoso musicians use their passion and prowess to bring the ancient art of music into the digital age.
Below I have described the twelve music venues where I have enjoyed some of the best concerts of my life. I have generally started with the Asian side where I live and then moved on to the European side, but they are in no particular order. Many are intimate holes in the wall that may not even have signs and could be easily walked past without knowing the talent that emanates there. Once you reach these places and see these bands, feel the vibrations throughout your body, release your inhibitions and allow yourself to dance. Don't worry about the judgments of others. Many others will also be dancing, and those who aren't will appreciate your enthusiasm. This what we call music therapy.
Arkaoda
This quaint bar in an old mansion in Kadıköy features both local and international bands. The cover charge never exceeds 20 lira and while I never quite know what to expect, I've never been disappointed. I've heard everything from hip-hop to electronica to punk to Native American chanting from their performers. Most concerts are on Sunday and Wednesday nights, but check their Facebook page and their website to keep updated. Occasionally they also hold festivals where artists and NGOs can connect with vegan fare. The garden and lounge areas downstairs are great for commiserating with friends.
Arka Oda is located at Kadife Sokak No:18/A near Moda Caddesi in Kadıköy. Unfortunately, there is no sign on the door so look for the building number. You'll know you're in the right place when you go inside and see their literature describing the concerts for the month. Their credit card machine is often broken, so bring cash.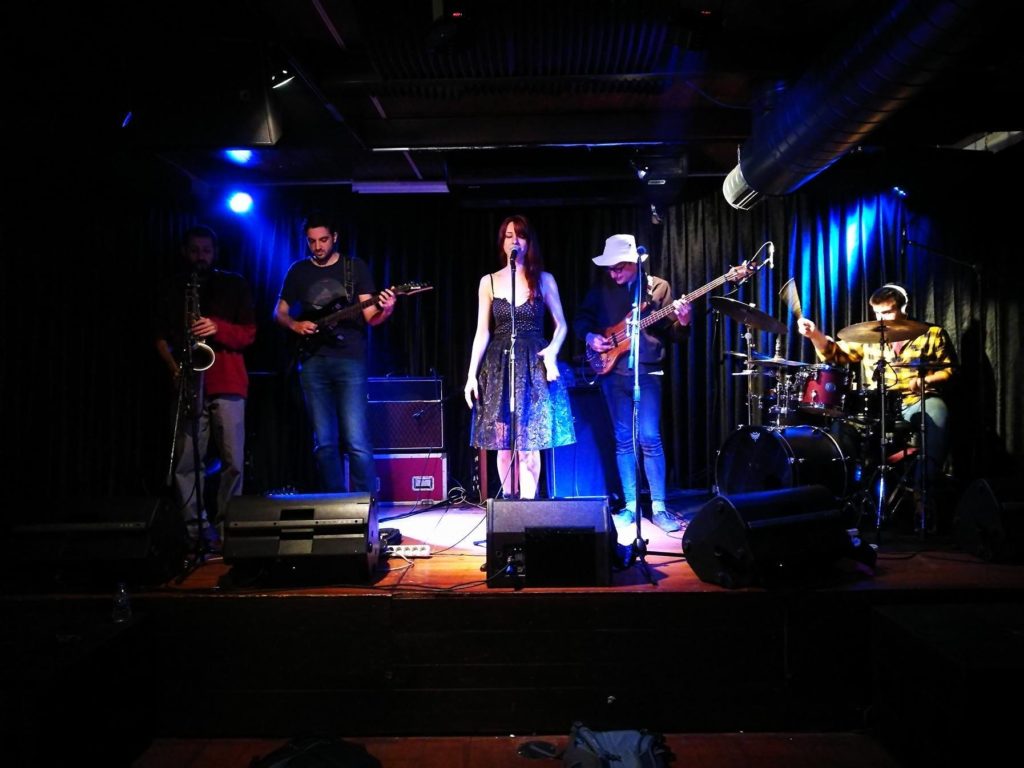 Karga
Meaning "crow" in Turkish and right next to Arkaoda, this five-story bar in an exquisite old mansion has cheap concerts on Fridays and Saturdays around 10pm. You'll know it because of the metal crow attached to the outside of the building. The top floor is where the live music is played, and the music is usually rock with a spiritual or shamanic ambiance. The lower floors and terrace can be a great place to connect with new people. Cover charge is 10 lira, except for special events. For more information, check out their website.
Karga is located at Kadife Sk. No:16 near Moda Caddesi.
Buddha Bar
On the same street as Karga and Arkaoda, Buddha bar has an upstairs bar and a downstairs stage and usually there's no cover. They have live music every night with different genres for different nights of the week. The bands, who mostly perform English rock covers rather than original songs, are very convivial and enjoy speaking with the audience between sets. Check out their Facebook page.
Buddha Bar is located at Kadife Sk. No 14 near Moda Caddesi. Look for the neon blue sideways sign.
Kaset
Kaset is currently the venue where Take Me Up the Bosphorus, the popular English stand-up comedy night takes place. But it also hosts local classical and rock bands. They have a full food and drink menu and good deals on beer. To keep track of their many theater, comedy, and music events, go to their Facebook page. Kaset also has a location in Beşiktaş called Kaset Mittani which showcases jazz music. Their Facebook page is here.
Kaset is located in Moda at Dr. Esat Işık Caddesi, No 3/B. Kaset Mittani is located at Barbaros Bulvarı No:61/A up from the ferries.
Arthere
Arthere is mostly a cafe in Kadıköy that hosts artist residency programs and gallery shows, but occasionally hosts live innovative music from different regions, often accompanied with poetry, which is usually in English. Most of the music combines modern jazz with traditional instruments. To find out when their events are, go to their website.
Arthere is located at Beydagi Sk No. 3A up from the ferries.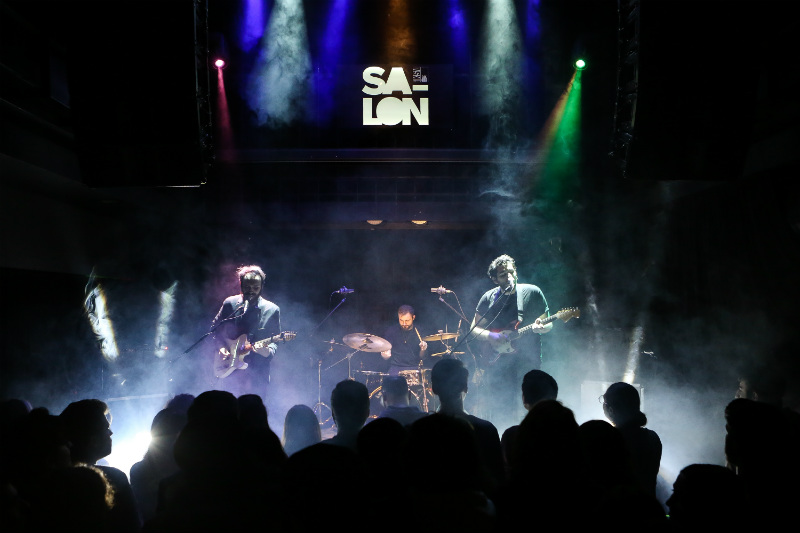 Salon IKSV
This club and stage is run by IKSV, the Istanbul Culture and Art Foundation and features bands from Turkey and other countries. It's good to buy tickets in advance through Biletix, as their shows do sell out. Mostly they have indie rock bands, but they also have electronic and jazz music nights. Nan Restaurant, right next to the club, gives discounts to anyone with a ticket that night. To find out what's playing, go to their official site.
Salon IKSV is located at Sadi Konuralp Caddesi No:5 right next to the Şişhane Metro Stop. Look for the small box office and Nan Restaurant.
Shaft
Named after the 1970s blaxploitation film, this dive bar has live music every night, although Saturday is the most popular night. They specialize in rock, jazz, blues, and punk music and have a regular bar upstairs. To find out what's playing, go to their Facebook page.
Shaft is located at Osmancık Sok 13B in Kadıköy. Look for the gate that says Sokakta Hayat Var and the sideways blue sign.
Peyote
This popular student hangout spot in Taksim has long been a hub for Istanbul counter-culture. They have concerts every night except Monday and Tuesday, and features great local rock, punk, and electronica bands. Their performances often include resplendent graphic projections and light shows to accentuate the music. The upstairs terrace is also great for drinking and chatting and the first floor has great DJs. Cover charges are usually 10-15 lira. You can keep track of their concerts on their Facebook page and their website.
Peyote is located in Nevizade at Kameriye Sk. No:4. Look for the black circular sign.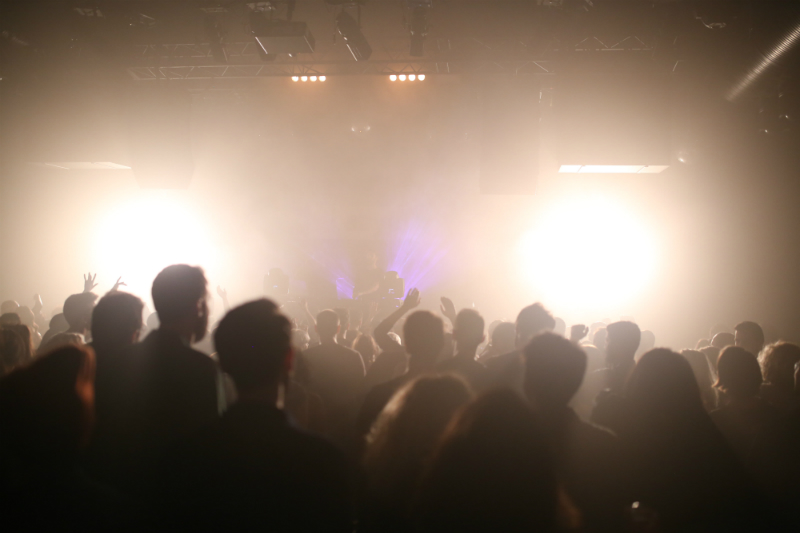 Babylon
This club at bomontiada could have the most eclectic mix of acts in Istanbul, ranging from jazz to hip-hop to Turkish pop. People often have drinks at the neighboring microbrewery, the Populist, for quality beer before the show. Again, buy advance at Biletix if you don't want the show to sell out. The music is often accentuated by the impressive light and graphic shows.
Babylon is located at Tarihi Bomonti Bira Fabrikası Birahane Sokak No:1, a 10-minute walk from the Osmanbey Metro Stop.
Zorlu Performance & Arts Center
Okay, not so underground, but still fun. This stage in Gayreteppe area hosts everything from West African traditional music to indie pop to heavy metal. Get your tickets in advance and feel free to get up out of your seat to dance. Occasionally, they also show plays (which may be in Turkish, so check before buying if the language barrier is a problem for you) and movies, such as Lord of the Rings, with a live orchestra.
Zorlu Center is located at Koru Sokağı No:2. To get there, take the metrobus to Zincirlikuyu or the metro to Gayreteppe. Look for the signs that say "Zorlu Center" and, once inside the mall, look for signs marked PSM. For more information and to purchase advance tickets, go to http://www.zorlupsm.com/tr. 
James Joyce Irish Pub
This Irish pub in Taksim hosts rock cover bands, usually on Fridays and Saturdays. These bands typically play covers of classic bands like the Doors and U2. They also have good deals on international beers. Cover charge is usually 20 lira and sometimes includes one drink on tap.
James Joyce Irish Pub is located at Balo Sokak No: 26.
Garajistanbul
This chic bar near Taksim hosts jazz, rock, and acoustic concerts and is frequented by some of the most successful local bands. The bar makes delicious mix drinks and occasionally shows Turkish theatrical performances as well. To find out their schedule and buy advance tickets, go to their official site.
Garajistanbul is located at Reşat Bey Sokak 11A behind the Church of Saint Anthony.
If you know any other quality live music establishments not included here, drop us a comment.