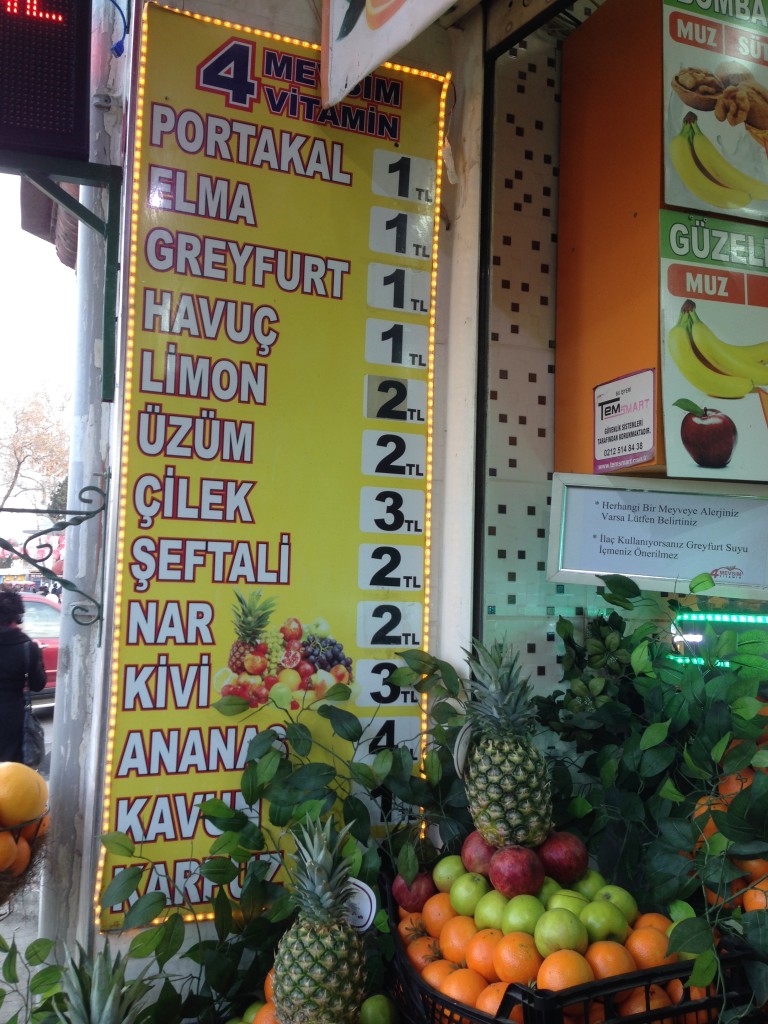 You can check the pulse of a city by the diversity and availability of its 24/7 street food. And yes, Istanbul is certainly buzzing with its endless cheap eats: the renowned kebap, the classic post-drinking ıslak hamburgers or the ingenious midye dolma, among many others. But we can all agree that none of these offerings are a picture of health. Luckily, this sleepless city offers not just the usual street fare, but – wait for it – healthy juices as well. Real, fresh squeezed juices in Istanbul are an excellent way to start your morning all year round: to quench your thirst during the humid summers and to avoid a cold in the freezing winters.
Around the city some franchise shops offer an overpriced version of these juices. But for a really inexpensive, refreshing alternative head to Üsküdar and while on your way to Kanaat Lokantası or the Çinili Hamam you can make a quick stop at 4 Mevsim Vitamin, a blink-and-you'll-miss-it unassuming juice stand. This is the place go to place for a take away juice. The tiny shop just has a tall table with no chairs and is in the middle of a pedestrian thoroughfare. And that's all. No decoration or fancy furniture. Even the background of the narrow shop is packed with blue fruit boxes. And, like some of the most authentic places in Istanbul, they focus on one thing and one thing only. They just offer juices made freshly on the spot, right in front of your eyes with all natural ingredients. You can find the classic choices, orange and grapefruit, in different sizes and prices -1 TL, 2 TL and so on – along with a number of more unusual choices, like strawberry or peach. Their menu also includes a wide variety of mixes to take away in small or one litre plastic bottles.
The one litre options, which range from 6 to 10 liras, are described on their whiteboard as a "natural pharmacy," the cure for all your diseases. Go for the pomegranate, orange and lemon combination if you have the flu. And if you can't stop coughing they add honey and ginger. Other interesting mixes include the combo banana-milk-honey, the "atom" or the tropical cocktails, among many others. Happy juicing!
Mimar Sinan Mahallesi
Hakimiyet-i Milliye Caddesi No. 9
Üsküdar
Insider Trading is our new column sharing expats' secret finds in Istanbul. These recommendations are unsolicited and uncompensated. Have a place you want to share? Send email to emma@yabangee.com.