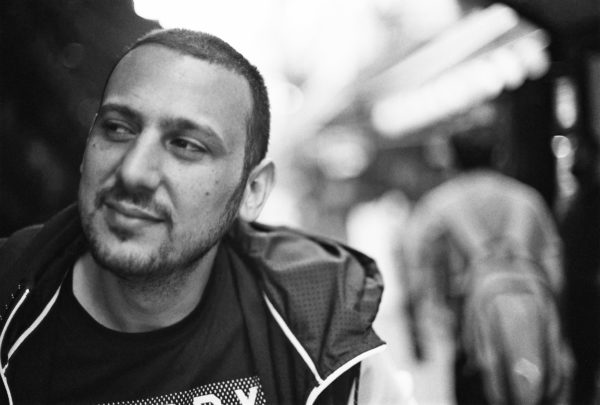 As a follow-up to our interview with rapper and all-round nice guy of Turkish hip hop, Ege Çubukçu, we asked him to put together a playlist for those seeking an introduction to the genre. If you like any of what you hear below, definitely check out Ege's show, Şehrin Azizleri, which has aired for three summers every Thursday night on Tophane's Açık Radyo.
A Beginner's Guide to Turkish Hip Hop, by Ege Çubukçu
1. Cartel & Karakan: Cartel
This is a solid-gold classic of Turkish rap. I first heard it when I was 12. Cartel were such a big influence for me. There were a lot of rappers with Turkish roots from Germany trying to make an impact in Turkey back then, but Cartel were something else. Everybody in Turkey was hooked on Cartel in 1995. I think I wrote my first rap in Turkish thanks to them.
2. Karakan: Araba Yok
It was thanks to the huge impact of Cartel that we came to hear of groups like Karakan. Kabus Kerim and Alper Ağa had a unique style, technique and self-confidence that separated them from the rest. Alper Ağa in particular was a brilliant lyricist if you ask me. He has stopped recording but Kabus Kerim still performs great DJ sets of Turkish funk records.
3. Boe B: Gurbet
This guy must be the oldest MC in Turkish rap history. Like Cartel, he learned to rap in Germany. He came from the same context, and rapped about what it was like to be a Turk in Germany in the '80s. This song is the perfect combination of Turkish folk-style vocals and rap technique.
4. Susturucu: Gece Gelince
In 1999, one of the most important hip hop DJs was called Turbo (real name Tunç Dindaş). He dropped what was probably the first mixtape to have a major impact in Turkey. Entitled "Yeraltı Operasyonu", it introduced us to names like Ses, Silahsız Kuvvet and Nefret. But the group that really stood out for me on that tape was Susturucu. They rapped in this laid-back California gangsta style, with mischievous lyrics over G-Funk beats. With members from both the US and Izmir, I guess they were Turkish rap's West Coast equivalent. And the production quality was incredible for the time. Everything changed for me when I met them in 2001. My solo career ended before it started, and I joined them as an amateur.
5. Ceza: Medcezir
I think Ceza was the second major wave of Turkish hip hop to make a big impact on the Turkish music. After him the Turkish rappers from Germany were just not sexy anymore. It was really important that he was repping Istanbul and Üsküdar – it just really resonated with young people.
6. Da Poet: Hip-hop ft. Hayki
Da Poet is a multi-talented musician. He is both a great rapper and an excellent producer. You can see him rapping with 90 BPM, his avant-garde rap group, or you can catch his DJ sets at music festivals all over.
7. Farazi & Kayra: Mertel Kasetçilik
Kayra is one of my favourite rappers. He is from Karabük, a small town on the West Black Sea coast. It's like he has retained every memory of the place from his childhood and brought it with him to share it with us. I have never been to Karabük but thanks to his storytelling skills I feel like I have. That's the kind of rapper he is. He creates the right atmosphere for the song and then spits on the mic like no one else.
8. Tahribad-ı Isyan: Wonderland ft. Fuat Ergin
These young rappers from Sulukule have caught people's attention with their no-fucks-given style. They were the first rap group to really reflect a Turkish ghetto lifestyle to wider audiences. But they've also worked with Turkish contemporary artist Halil Altındere, whose "Wonderland" was shown at the Istanbul Biennale. They wrote a song about urban transformation and made an impact, globally. Their work has also been shown in MoMa.
9. Hayki: Gidiyorum
This guy really speaks his mind about politics. His songs are politically mature, open-minded and brave. There is lots of Turkish hip hop that samples folk songs, but this song stands apart. He uses Aşık Veysel's classic folk ballad "Uzun Ince Bir Yoldayım", but instead of sampling it, re-records it and makes it his own.
10. Sayedar feat. Ege Çubukçu & Orçun Tha Leo (of Sattas) – Bir Oluruz
This song is just so fucking cool. 'Cause I'm on it 😉 Na, but seriously, I chose this song because of all the flavours it has to it. It brings together new school and old-school and hip-hop and reggae. Not just the beat but also the lyrics are a reflection of the current state of the genre in Turkey.
We are trying to spark people's consciousness. We stand for the young community. We believe that they have no obligation to be anyone but themselves. They don't have to be scared of being different. Being "other" is not a destiny. They can paint their future.