By Deirdre Dlugoleski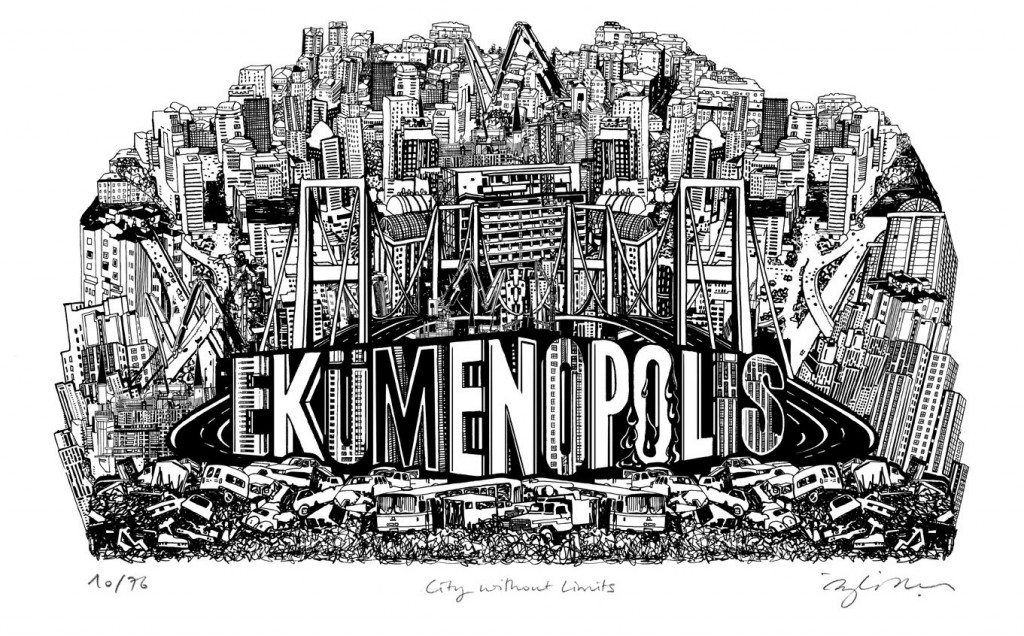 'Ekümenopolis', a documentary film released this year, tracks the consequences of Istanbul's shift from an industry to a finance and services-based city over the past 30 years. With the adoption of neo-liberal economic policies in the 1980's, Istanbul's administrators have worked to make the city more attractive for investors. Along with TOKİ (the State Housing Administration), the municipality of Istanbul has demolished neighbourhoods for the sake of highways and skyscrapers, leaving no space in the city for the working class that built it.
More and more, the urban landscape in Istanbul has come to embody the widening gap between the rich and the poor – an even more pressing problem in light of Istanbul's rapid (and continuing) growth. To meet the needs of its burgeoning population, Istanbul already draws water from as far away as Bolu – but if the plan to build a third bridge over the Bosphorus is completed, the city will destroy its last remaining forest and water reserves. Ekümenopolis aims to show the connections between all of these issues. Through interviews with experts, academics, writers, investors, city-dwellers, and community leaders, the documentary re-examines the city on a macro level, equally accessible to life-long İstanbullus and those who have just arrived. The DVD will be coming out at the end of October 2012.
In an interview with the film's director, Imre Azem, we discussed the larger purpose of Ekümenopolis, and why it is so important for the people of Istanbul.
"The main audience is Turkish, and this is because the film is about Istanbul and what it means to change something," said Azem. "And only the people living here can change that." We had just sat down at a tea house overlooking the Bosphorus in Fındıklı, and I had asked the question I had been wondering since I finished watching the documentary in my apartment: Why is it subtitled, and even narrated at some points, in English?
I had assumed that Azem intended to draw international attention to the problems of Istanbul, perhaps to draw wider criticism of the city administration or the AKP (the Justice and Development Party). It certainly seemed as though the film had come a long way towards success in that regard – it earned its post-production funding from the Hamburg Film Fund and won the Human Rights Award at the Sarajevo Film Festival this past summer. Although he wanted it to be accessible to an international audience, however, Azem has always intended the documentary for a Turkish audience. "Yes, it's true that most people are aware of these issues, but they don't make connections," he explained. "The documentary does the opposite of what most do – it focuses larger, not more specifically on something."
The film is not intended to criticize only the Turkish government. "It's not a platform politics film. Yes, the AKP passed a lot of the most recent laws that have allowed the plunder of Istanbul … but really, it goes a lot deeper than the AKP. This is a capitalist system that we're criticizing, and all the other parties are part of it."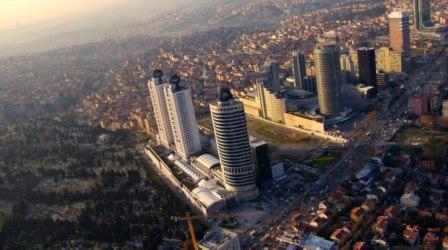 The basic issue, he explained, is that urban land has monetary value. Through projects, the city gets rent and speculative profits. Azem draws a parallel between today and the 1980's, when city officials promised to share the huge profit from urban spaces with people. "This is not real," he asserts. "People don't get to share it. But it's pledged that they will be able to take part in this plunder."
That doesn't stop many from dreaming about it, though. "Sadly, most people think that making 20.000 YTL on their house is more valuable than their neighbourhood." According to Azem, the government will change its policies when people change their priorities and articulate their demands on a large scale. "But this film can only be a small dent," he mused. "The forces behind this are so huge … I think it will take many years. But if people are going to unite, they have to unite around something."
In Azem's mind, meaningful change comes from a three-step process: inform, unite, act. "It's the source of history," he said. "But we are a long way from action." Ekümenopolis intends primarily to provide an informative framework for people to eventually unite around critical issues. "I wanted to bring about criticism of the system, but on a tangible level," said Azem. "Something concrete and visible. There's a lot of information that's not visible, but has concrete manifestations."
The reception has been much better than expected, but there has been some negativity. Ekümenopolis was banned in one town – although all the permits for screening were in place, the mayor's office of Enez stepped in and prevented the showing. Azem, however, did not find this particularly troubling. "Technology is way too advanced," he said. "In today's world, you can't really ban books or films. And ideas that mean something to the population will spread like wildfire."
TOKİ, the State Housing Administration which the film criticizes so heavily, has not given any response.
In Turkish cinemas, Ekümenopolis has only been seen by about 7,000 – barely enough to cover its production costs. Most people have seen it through via 50 special screenings at festivals, at universities, and in neighbourhoods. According to Azem, the film means different things to different people, and elicits different reactions. Those actually living in the neighbourhoods, for example, have different reactions than students – although he recalls some architecture students actually changing their final projects after seeing the film.
The screenings are particularly advantageous because they include discussion groups. "People were saying that the film really gave them the tools to discuss these issues. Because the film is so broad … it gives them a platform," recalled Azem, describing one such instance. "It becomes more concrete, it becomes discussable. People have much to say, but they didn't have the structure."
"It really did it for me, also," he added. "I needed the structure to discuss it. Making the film was really my process of learning as well." A student of French literature at Tulane University in Louisiana, Azem had some experience in photography in college, but learned film in New York City while working as a magazine editor. He first made a documentary about colonialism in 2003 in the wake of the US invasion of Iraq. "That's where it began," he said. "It was born of the necessity to say something." Because Azem thinks visually, he chose to work with film. Although this first attempt remained unfinished, it sparked other endeavours, like Ekümenopolis.
Both because of tight funding and the urgency of many of the issues that Ekümenopolis explores, Azem's next projects will likely be short films (he has already completed two for Amnesty International). He also intends to continue to develop the website for Ekümenopolis. Five interviews were not included in the film due to time constraints, but Azem hopes to put them online for interested viewers. Most of all, though, he hopes that Ekümenopolis can stand as an example for others. "There are many films that are made that deal with tough subjects, but their problem is that they're not made at production levels for wider distribution," he reflects. "I think our film has shown what can be done, with the animations, the chapters … It's a very unusual documentary."
Ekümenopolis will be released on DVD (with English subtitles) at the end of October.