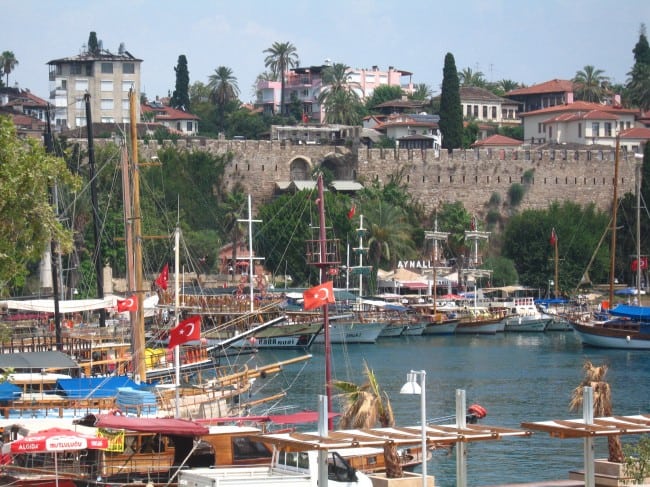 Antalya, on the south coast of Turkey, is a great antidote to the hustle and bustle of Istanbul. There's mile upon mile of beaches and the city itself is rich with history. With regular cheap flights from both Atatürk Airport and Sabiha Gökçen (on the Asian side), it's perfect for a weekend trip. Flights are available from Pegasus, Atlas Jet and Onur Air, with prices all fairly similar.
A popular retreat
Antalya recently ranked as the world's third most-visited city by number of international arrivals in 2011, displacing New York. It is also Turkey's biggest international sea resort. The city is famously popular with Russians looking for some sun, but it's fair to say that Antalya – in addition to nearby Kaş and Alanya – have become favourites with European holiday makers in general.
Historical coastline
The two major historical influences in Anatlya were the Romans and the Seljuk Turks. In the old part of the city, the harbour is situated on the original Roman site, dating back to 133BC, when the Romans expelled the Greeks. Also from that period is Hadrian's Gate, built in the honour of the Roman emperor Hadrian, who visited Antalya in the year 130BC. In the early 13th century, the city and the surrounding region were conquered by the Seljuk Turks. Antalya was the capital of the Turkish beylik of Teke (1321–1423) until its conquest by the Ottomans.
Miles and miles of beaches
There are two main beaches in Antalya; Lara beach (Lara plajı), to the East of the city, and Konyaaltı, which is nearer to the centre of town.
Lara, a sandy beach, is a little further out, and takes around half an hour to get to by car. On the other hand, you can walk to Konyaaltı – a pebble beach – from the centre of town. You can swim in the sea (the Mediterranean) at both locations, although Lara is less crowded. Just remember to bring flip flops and plenty of sun cream!
Both beaches have deck chairs / beach beds, bars and ice-cream vendors nearby. There is also a club atmosphere with disco music, and parties in summer till the early hours. With temperatures reaching the mid-40s in the height of summer, the city comes alive at night.