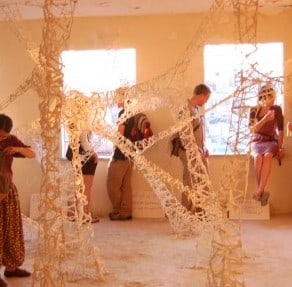 The student stereotype for creating a mess is under threat. A group of international (Erasmus) students see nothing but potential for Tarlabaşı's chaotic crumbling backstreets. For their show, Division Unfolded: Tarlabaşı Intervention, they have turned a ruined building into their own private exhibition space.
"It was just full of crap when we came here," says Alex Yair Von Pentz, an Erasmus student from Italy. A month ago, he and his fellow students were wondering the streets of Tarlabaşı, when they came across a crumbling pile on Eski Ҫeşme Sokak. There are no windows or doors, and the whole building looks like it's close to collapse.
"These empty buildings were once full of life," agrees Francesco Lupo, another of the exhibiting artists. "We want to bring people to Tarlabaşı, and challenge them to think about what the place means, and how much better it could be. It's about creating a community."
Division Unfolded is a collection of paintings, sculptures, photos and installations. The surroundings are incorporated into the exhibition so that the building itself becomes part of the artwork. The show is only on for one day, but there are crowds of young people; both students from all over the world and Turkish people.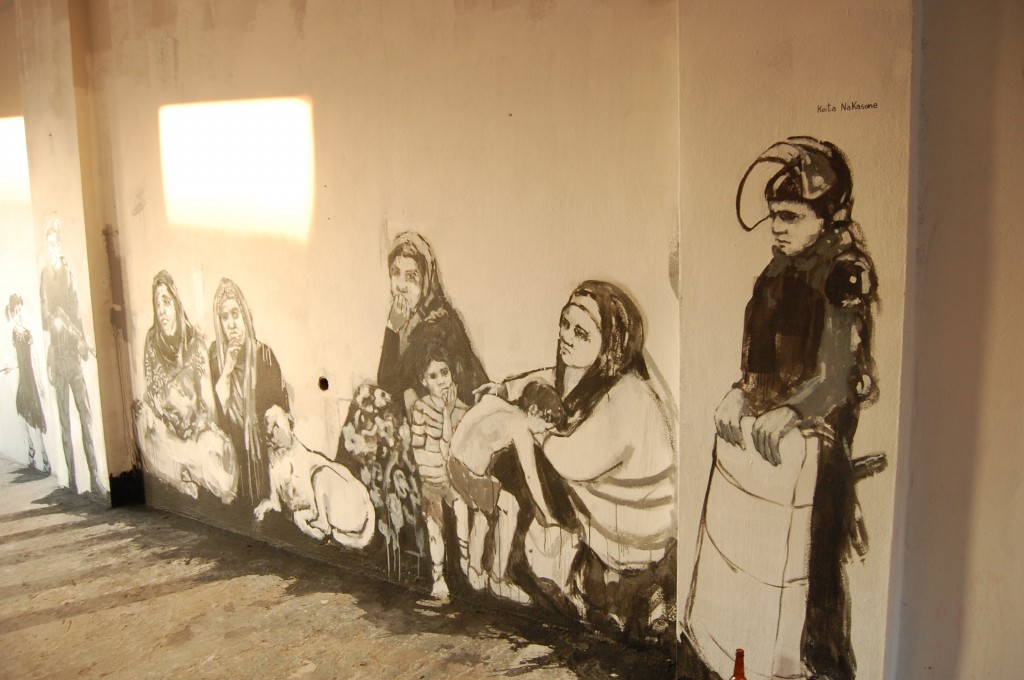 Describing his work entitled "The Head of the Field", Von Pentz says "I wanted to give a vision of Tarlabaşı in the future. People will forget about building, and instead grow plants and create parks." His work is a projection in which his model of the city (created out of polystyrene and brick) sits below a floating shelf upon which plant shoots emerge.
In some cases, the building is the artwork. Young German artist and photographer Kathrin Sohlbach has preserved some of the rubble and rubbish the students cleared by covering it in plaster. Then, for a separate work, she has hung sheets of leather (that look like skin), again taking what was found from the rubbish in the building.
This site-specific installation embodied the dilapidation of the building, asking the viewer to reconsider the nature of architectural decay.
On another floor, Silva Albertini's "Tarlabaşı Hope" is an intricate representation of Tarlabaşı made from wire. Below are large shards of broken glass, set in a specially prepared 'ledge' of candle wax. As the candles burn the glass collapses, which, Albertini says, represents the destruction that has been taking place in Tarlabaşı over the years.
Overall, the work is evocative and each of the (ten) exhibiting artists offer intelligent artistic statements within a space that is certainly unique. It's a pity the show is only on for one day; but then perhaps this is a statement in itself about the natural entropy of Tarlabaşı.
After the project, Italian artist Francesco Lupo destroys a piece of art in the dilapidated Istanbul neighbourhood of Tarlabaşı (10 June)